Posted by Tim Densham on 21st Oct 2022
I discovered Conquest: Fall Blau on BGG's 2020 print and play contest. I loved the artwork, and the game time and gameplay really was a good fit for Catastrophe Games. Others thought highly of the game as well, since it won the #1 Wargame result in the contest. The after contest discussion on BGG was one of the liveliest and engaged I think I've ever seen as well, a really good sign to see. Many people shared their game builds, along with their after action reports.
The fact that someone made a 3D printed card display was the final evidence I needed to pursue publishing this game.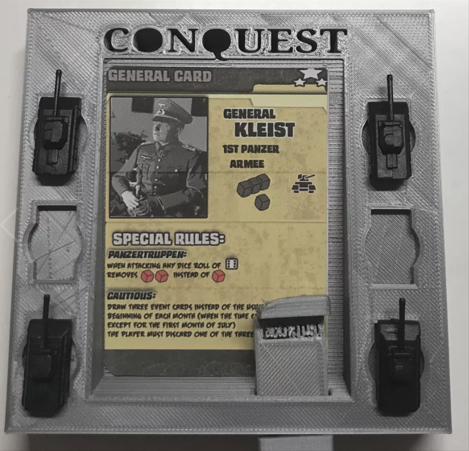 Martin was eager to see his game in print, so we went to work on some game development. I found using cards for the campaign progress and VPs/supply/calendar was fiddly, so immediately we switched to a board for that information. As time went on I felt the same way about the frontline, so that became a board as well.
I had trouble during gameplay differentiating between the negative event cards at first glance so we created a more color focused method of having those cards standout.
Eventually we got around to updating the rules and this is when I discovered that while a native English speaker Martin does most of his writing in French. Hats off to Martin for writing rules not in your primary tongue. Could not even imagine trying to write Zurmat's rules in Spanish, the only other language I'm halfway proficient at. So while the draft rules are posted on BGG, please know we are actively working on updating them!
Perhaps the thing I'm most excited about this game is that Martin is already working on 2 followup games with the same system: Operation Bagration and a North African campaign.